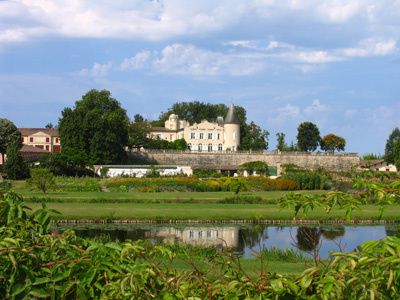 Ein Bericht über das sehr fragwürdige Geschäftsgebahren der Weinmhandelsfirma www.1855.com – von Jim Budds blog:
Château Lafite: just one example of an en primeur ordered from 1855 and not delivered. Over the next fortnight the wine world's attention will be on Bordeaux with the 2011 en primeurs tastings. Many of you will be present there tasting and assessing the new vintage.
1855 (1855.com)
This coming fortnight is a great opportunity to turn the spotlight on the continuing scandal of 1855 (1855.com) and its failure to deliver a significant proportion of the Bordeaux en primeurs ordered by its clients. The failure to deliver has now spread to ChâteauOnline bought by 1855 in March 2011 with customers now finding that their 2008 en primeurs have not been delivered.  Although 1855 is based in France, it has disappointed and long suffering customers throughout Europe, waiting for en primeurs ordered and paid for stretching back to 2002.
Between November 2010 and March 2011 I kept a count of the Bordeaux en primeurs that 1855's customers reported had not been delivered. The list of wines reached a staggering 500 cases outstanding with a value of just under 300,000€. As 1855 has a policy of delivering outstanding wines to those who shout loudest or who start legal action, and usually in dribs and drabs, it was not practical to continue to record the en primeurs not delivered.
1855 has claimed that it has placed firm orders for all 2009 en primeurs ordered through them. This may possibly be the case but on previous experience it is all too likely that there will be problems with 2009 en primeurs ordered through 1855.  On the La Passion du Vin forum there is a thread called '1855 retard des primeurs' that now runs to an astonishing 122 pages and is full of stories of wines ordered but not delivered, promises made by 1855 and repeatedly broken as well as advice on the legal options available.
Many customers have concluded that the only way to get 1855 to deliver their wines or obtain compensation is to go to court. Only last week a customer was offered by 1855's lawyers before a Parisian court double the purchase price in compensation for his undelivered en primeurs from vintages 2005 and 2008. Surely a clear indication that 1855 failed to buy the wines this client ordered.
It would be great if you would warn your readers that buying 2011 en primeur through 1855 and their associated companies – Cave Privée and ChâteauOnline – is all too likely to lead to disappointment and non-delivery of the wines ordered. Much better to order en primeurs from more reliable and reputable companies.